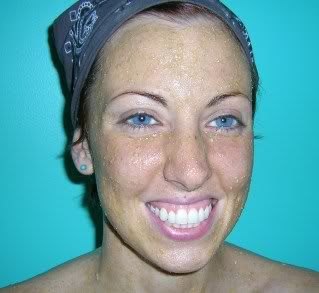 today i was inspired by hippie mom at the raw journal

to treat myself to a facial and post a funny pic with the goo on my face.
(

the turquoise background is the chill room we painted recently

.


me

likey

.

)
~

*

~
Facial Ingredients (found
here
)
:
• 2 tablespoons oatmeal
• 2 tablespoons brown sugar

• 2 tablespoons commercial pure aloe vera or aloe vera gel from a plant
• 1 teaspoon lemon juice


1. Add all ingredients to a food processor and blend until creamy.
2. Store in a covered jar in the refrigerator for up to three days.
1. Wet your face with water.
2. Apply scrub to your face with a gentle circular motion. Take care not to tug the skin, and avoid the eye area.
3. Rinse with warm water followed by a quick cold-water rinse.
4. Cleanse your face with your normal cleanser.
i left the mixture on my face, neck, and rough spots for about 20 minutes, then rinsed it off in a nice steamy shower. my skin was left looking radiant and feeling oh so smooth. as john says, my cheeks are extra buttery.
:P
i also gave myself a pedi and painted my toenails bright

peach
with one white flower in protest of the fall season. ( would have posted a pic but my feet are shy =)

i am
not
ready to say goodbye to summer just yet...are you?